[vc_row][vc_column][vc_column_text]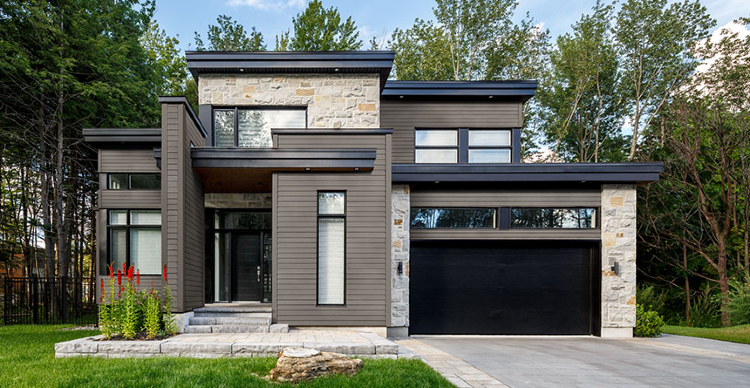 When it comes to longevity, James Hardie siding is similar to brick or stone, and should last the life of your home. James Hardie fiber cement has a 30-year non-prorated, transferable warranty which demonstrates how sure they are about the long life of this amazing siding material.
HardiePlank lap siding has the backing of the Good Housekeeping Research Institute, and has received the prestigious Good Housekeeping Seal. This honor was granted after rigorous testing for fade resistance, moisture retention resistance, fire resistance, and more.
What Makes James Hardie Siding So Durable?
Heavy-duty makeup
Fiber cement siding is made of cement, and reinforced with cellulose and sand to make it even more durable. Due to fiber cement's special curing process, it is less likely to crack or break, and it resists moisture. That means you skip the hassle of repairing damaged siding, and you bypass the trouble that comes along with unsightly wood rot, mold, mildew, and other types of moisture penetration. James Hardie fiber cement stands up to high winds, severe storms, and even hail damage.
Fire Resistance
While vinyl siding melts in a fire, and wood siding is highly combustible, durable James Hardie fiber cement siding doesn't contribute to a house fire.
Insect Resistance
Wood siding attracts damaging carpenter ants, termites, and even woodpeckers. But James Hardie siding doesn't offer insects or woodpeckers what they're looking for, and that saves you a lot of time and money in the long run. Insect-resistant James Hardie siding stays intact and protects your home from infestation and damage.
Baked-on color
Other siding products fade and lose their original look with time, but James Hardie siding maintains its color so your home looks beautiful for years. UV resistant, fade resistant, baked-on James Hardie color keeps your home looking beautiful.
Climate specific
James Hardie siding and trim products are engineered for climate. They are made specifically for your geographical area, with the needed protection relative to your particular weather. Get the optimal siding and trim products for Kansas City with the HardieZone System. The HZ5 product is ideal for the Kansas City area.
Thick texture
While vinyl siding is only .03" thick (and can tend to dent as a result), James Hardie siding is ½-inch thick and withstands hail, high winds, and blowing debris. Vinyl is hollow under it, while fiber cement is dense and not even remotely hollow. Fiber cement is almost as thick as wood house siding, and gives you the look of wood (without wood's high maintenance).
Why Kansas City Homeowners Love James Hardie Siding
James Hardie fiber cement siding protects over 8,000,000 homes in America. Although the initial investment may be more than vinyl, it's less than brick. And fiber cement siding lasts for decades! It boosts your home's resale value, and gives you eye-catching curb appeal that lasts. The hearty return on investment keeps homeowners smiling. Seventy-eight percent or more of your initial costs should be recouped upon resale if you've kept your siding in good condition.[/vc_column_text][vc_message message_box_color="grey" icon_fontawesome="fas fa-file-alt"]
Want to know more about Hardie board siding?
Check out our "Ultimate Hardie Board and Fiber Cement Siding Guide"[/vc_message][vc_column_text]
Benefits to having long-lasting siding
James Hardie fiber cement siding is considered a green building material because it lasts so long. This durable home siding is made of non-toxic ingredients, and its components are available in abundance, making it a favorable material for those who choose environmentally-friendly products.
How to care for your James Hardie fiber cement siding
Fiber cement siding is low maintenance, giving you more time to do the things you love most. It doesn't require the tedious priming and painting wood siding needs to stay sealed up and protect your home from the elements. But in order for fiber cement siding to live out its lifespan, it does need some regular care.
1. Clean your siding twice a year.
Resist the urge to use a power washer, as the force of the water can damage siding. Instead, grab your garden hose and a medium bristle nylon brush to remove any dirt or grime from your siding. Clean it from the top down. It will maintain its beauty as you apply this simple cleaning technique.
2. Do a visual inspection periodically.
Perhaps as you clean your siding, take a good look at it, and verify there are no areas that need attention. Make sure it is fully intact to keep moisture from penetrating your home and causing costly damage. Look carefully at the caulking to verify there are no gaps or cracks. If there are areas that need new caulking, simply apply it in a continuous stream, and smooth it down to fill in any gaps.
3. Paint every 15 years.
The paint on fiber cement siding lasts longer than it does on wood, but it will eventually need to be repainted to maintain its beauty and function. If you purchase preprimed fiber cement siding, and paint it after installation, you miss out on the strength of the factory baked-on color and its durability. ColorPlus technology gives your home vibrant color, and is warrantied for 15 years. At that time, choose a color and repaint your home to keep its protective layer strong, and beautify your home.
4. Maintain your gutters and downspouts.
When you channel moisture away from your home, it helps keep your siding in good condition. Since water penetration can wreak havoc on siding, direct it away with gutters and downspouts. Clean gutters at least twice a year to verify they aren't getting clogged by debris. Check downspouts to verify water flows through them with ease. Make sure your gutters are secured tightly against your roof fascia, and that they haven't started to leak or rust.
With the proper care, your James Hardie fiber cement siding will outlast its 30-year warranty. It can even last up to 50 years if cared for properly.
A Trusted Kansas City Siding Contractor
If you are considering buying replacement siding for your home, our friendly Stateline Exteriors team can give you a free estimate and guide you through the selection process.[/vc_column_text][/vc_column][/vc_row]