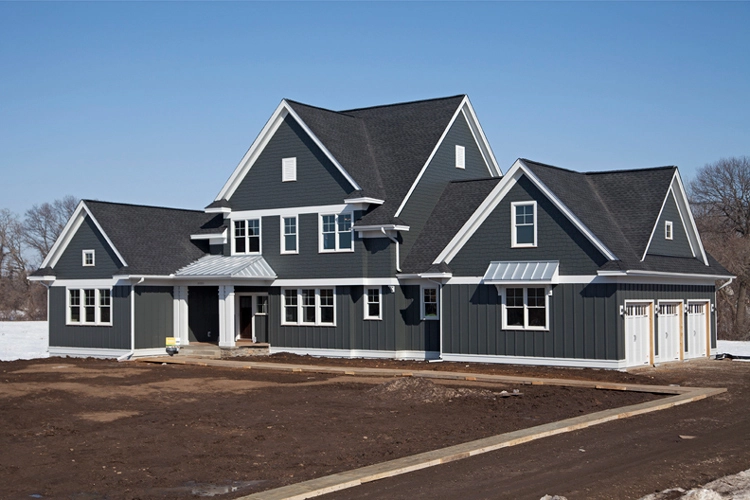 It's not often that homeowners shop for replacement siding, so naturally, when they do, there are questions to ask. Kansas City has some extreme weather, so when you are in the market for new siding, be sure to choose a durable, long-lasting product that stands up against extreme heat, extreme cold, abrupt change of seasons, wind, and even hail.
It can be overwhelming to shop for new siding. With all the material options boasting their greatest functions, it can be hard to sift through and find the product that's right for you. StateLine Exteriors took the time to research and take the guesswork out of the way for you. We hand-selected James Hardie siding, also known as Hardie Board siding, as the best siding for Kansas City homes. We give you an honest, factual review of your siding, and answer any questions you may have. Siding replacement should be streamlined and simple, and at StateLine Exteriors, we make sure you not only enjoy the final product, but also the process of choosing the best product for your needs so you can enjoy your home again.
Here are some frequently asked questions about James Hardie siding:
1. How long does James Hardie siding last?
When you invest in beautiful James Hardie siding, you made a wise choice because it can last for up to 50 years! It's waterproof, and resists wind damage, pests, termites, heat, and fires.
2. How much does James Hardie siding cost?
James Hardie siding is less expensive than brick or stucco siding. It is truly worth the investment with its track record of longevity.
3. Is it difficult to maintain?
Compared to wood siding, James Hardie siding is much easier to maintain. Simply get out your garden hose and a soft to medium nylon brush, and scrub off any dirt that has accumulated. This only needs to be done once or twice a year!
4. How do I purchase James Hardie siding for my home?
Contact StateLine Exteriors, and we will be happy to walk you through the siding selection process. Installation is done right the first time with our trained team of experts.
5. Can I get an estimate on how much my siding replacement will cost?
Yes, simply contact StateLine Exteriors and we can set up a free consultation, give you an estimate, and answer any questions that arise.
6. How do I know what the siding options will look like on my home?
James Hardie offers a great online tool that's sure to help you decide which siding type to purchase. Use the handy online color visualizer tool. Try on different styles and colors before settling on which style to purchase.
7. Do you have siding options for contemporary homes?
Yes, our latest line of siding products is the New Aspyre Collection by James Hardie. It is ideal for contemporary or modern homes. It's a luxury collection that combines the thick, distinctive patterns of Artisan® siding with the smooth, geometric Reveal® Panel System. You're sure to love the creative options it provides homeowners and architects. Express your distinct style with beautiful new siding by James Hardie.
8. What kind of warranty does James Hardie siding have?
All James Hardie siding products come with a 30-year, non-prorated warranty, and their trim products come with a 15-year non-prorated warranty. James Hardie preferred contractors are trained to install these siding products with strict adherence to the company's standards.
9. Will the siding hold up in my area's climate?
Yes, James Hardie siding and trim products are Engineered for Climate®. They are made specifically for the Kansas City area, with the needed protection relative to the climate. Get the optimal siding and trim products for Kansas City with the HardieZone® System. The HZ5 product is ideal for the Kansas City area.
10. How long does the color last on this siding product?
James Hardie siding and trim products come either pre-primed at the factory (and painted the color of your choice after installation), or there is a baked-on option. The baked-on color option—ColorPlus® technology—gives you gorgeous, vibrant color that lasts! With multiple colors from which to choose, you're sure to find the perfect match for your home. Other siding products fade and lose their original look with time, but James Hardie siding maintains its color so your home looks beautiful for years to come.
11. How does the price of James Hardie compare to other siding materials?
Hardie Plank siding is more expensive than vinyl siding, less expensive than brick, equal to or less than other composite sidings, and less expensive than stucco siding.
12. What kinds of trim can be used with HardiePlank siding?
HardieTrim, fiber cement, real wood, engineered wood, vinyl, or corrosion-resistant aluminum can be used with HardiePlank siding.
13. What will James Hardie siding do in case of a fire?
The beauty of this siding product is its outstanding makeup. Fiber cement siding is made of cement, sand, and cellulose fibers—so it is noncombustible! It is heat and fire-resistant and won't contribute to a fire. You can rest peacefully each night knowing you and your loved ones have built-in protection. It can even help lower your insurance in some cases, so check with your agent about a possible discount once you install your James Hardie siding.
14. Who endorses the James Hardie siding products?
HardiePlank lap siding has the sought after backing of the Good Housekeeping Research Institute and received the prestigious Good Housekeeping Seal. This tremendous honor was granted after rigorous testing for fade resistance, moisture retention resistance, fire resistance, and more.
A reliable siding contractor
When you're in the market for a siding replacement in Kansas City, contact the trusted professionals at StateLine Exteriors. We'll give you an honest estimate on your project and guide you through the selection process with ease. Check out what others are saying about our services.