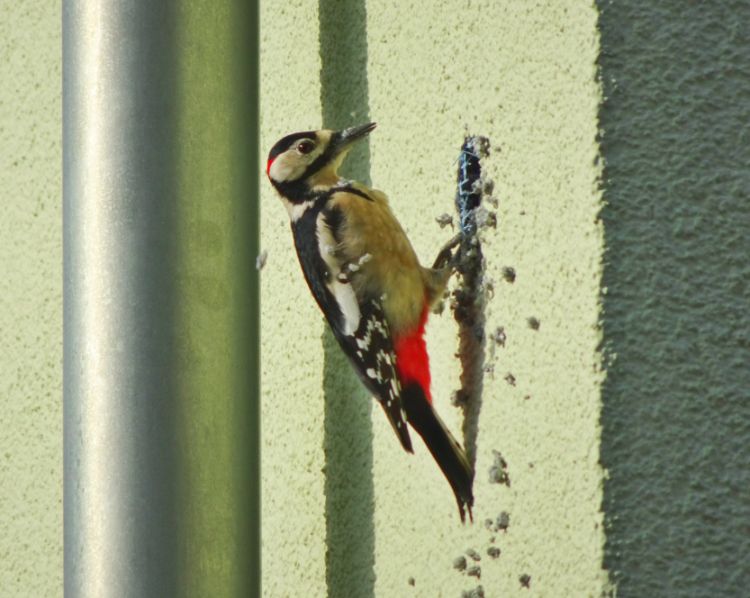 Sometimes to find out what something is, you've got to first find out what it's not. When it comes to siding, various siding products offer homeowners tremendous curb appeal, yet they don't hold up under conditions like extreme heat or storms with high winds or hail. One question many may not consider asking before choosing new siding for their Kansas City home is the question about the siding's resistance to woodpecker damage.
Some siding products offer woodpeckers and other pests just what they are looking for:
Food—Woodpeckers feed on insects that live in some siding types.
Shelter for a nest—Woodpeckers create large round holes in siding for breeding.
A place to store food—Woodpeckers drill holes in some siding products to store acorns.
Siding to peck on—Woodpeckers are attracted to siding they can peck on and make a loud sound, because it helps them to attract a mate. Woodpeckers also peck at siding to claim their territory. And this can go on for generation after generation of woodpeckers—offering homeowners steady annoyance from the noise and destruction to their home exterior.
Some siding materials are easily damaged by woodpeckers
Cedar Shake siding—This is a highly targeted siding material in the Kansas City area when it comes to woodpecker damage like drumming, nesting, and insect foraging. Woodpecker damage is probable with cedar shake and cedar shingles.
Tongue and Groove Cedar siding—Woodpeckers are drawn to the seams in this siding material, so the possibility of small, medium, or large holes can occur with this siding.
Wood siding—Wood offers woodpeckers everything they could dream of in a siding product. They damage all types of wood siding and create problems such as:

Large holes —Woodpeckers drum, roost and nest in wood siding, and make themselves at home by creating large holes for their needs.
Small holes—When woodpeckers look for insects in siding, they create rows of small holes in wood siding.
Multiple small holes—Fascia board damage comes in the form of multiple small holes from woodpecker drumming.
Woodpecker resistant siding options
Prevent woodpecker damage by choosing your siding material wisely. Here are some great choices to consider if you want to live free from the hassle of the noise and siding destruction woodpeckers cause:
James Hardie Fiber Cement Siding—America's favorite siding option is made of fiber cement which resists woodpecker damage. Fiber cement is composed of cement, sand, and cellulose. Its toughness offers no welcome mat to woodpeckers:

Food—It's too hard to peck a hole in, so woodpeckers are unable to store their food in it and are unable to find insects inside it.
Nesting—Fiber cement is so strong, woodpeckers are unable to create a large hole for nesting purposes.
Breeding—The typical drumming woodpeckers do on wood siding—to create loud noises, small holes, and attract a mate—doesn't happen when fiber cement is the protective layer on your home exterior. So rest assured, with James Hardie siding, your home exterior will be woodpecker resistant and you can enjoy peace and quiet without interruption year-round.

Brick homes—Brick is something to consider if you are building a custom home or looking for a new home to purchase. It's not a typical remodeling option. It's one of the highest priced choices, but clearly an appealing siding material when it comes to preventing woodpecker damage. It is woodpecker resistant and should remain damage free.
Stone siding—There's nothing inviting to a woodpecker about stone since they can't create hollow holes in it. It's a considerable investment to have stone siding installed on your home exterior, but it should help keep woodpeckers at bay from your siding. Your fascia, trim, and chimney may still appeal to woodpeckers, so be aware of their vulnerabilities based on their makeup.
Learn About Our Woodpecker Damage Siding Replacement Services >>
Is Hardie Board an option for your home?
Our guide to fiber cement siding can help you learn about the benefits of this pest-resistant material.
Don't risk your home exterior to destructive woodpecker damage
Siding is vulnerable to woodpeckers, nature's elements, and pests 24 hours a day, 7 days a week. When it's time to reside your home, choose replacement siding like James Hardie siding that resists unwanted woodpeckers and intrusive insects.
Why Kansas City homeowners enjoy James Hardie fiber cement siding
Resists woodpecker and insect damage— Avoid the hassle of woodpecker damage or pest infestation with trusted James Hardie siding. Unlike wood siding which woodpeckers can easily damage, James Hardie fiber cement siding is engineered to be unappealing to woodpeckers and pests like termites.
Beautifies your home—With eye-catching curb appeal, you'll love the look of James Hardie siding.
Customized style— The variety of style options gives you beautiful selections from which to choose to match your home's architectural style and your distinct preferences.
Color that resists fading—James Hardie's ColorPlus Technology offers baked-on color that keeps your siding looking great with minimum maintenance. And ColorPlus technology resists fading, so there's no need to repaint it.
Durability— Weather tests the durability of siding year-round, and James Hardie fiber cement siding delivers when it comes to durability. This siding product is resistant to harsh weather elements such as excessive rain, snow, and ice storms. Your siding, along with proper installation, helps your home hold up during extreme temperatures, but it also resists deterioration due to the impact of hail, moisture damage, rotting, unattractive warping, and the abrupt change of seasons.
Non-combustible—Unlike wood or vinyl siding, James Hardie siding is resistant to flames and damaging heat, so it doesn't contribute to fueling a fire. Due to its non-combustible makeup, some insurance companies offer discounts to homeowners with James Hardie siding.
Climate specific siding—James Hardie products are made to meet the needs particular climate demands. Climate has a long-term effect on siding, so James Hardie created the HardieZone system, which ensures you get the optimal product for the Kansas City climate.
StateLine Exteriors is a Kansas City siding contractor you can trust. Schedule a free estimate.