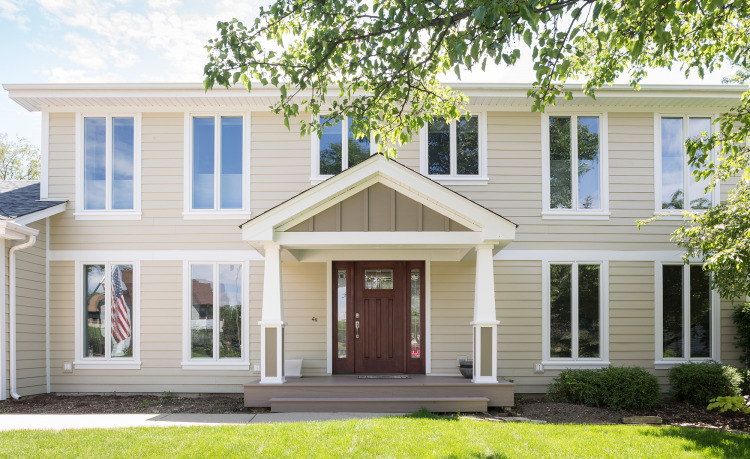 Kansas City weather can be tough on home exteriors and cause damage. Failing stucco siding tends to crack and requires frequent maintenance and painting. Fractures compromise your stucco siding and make your home vulnerable to destructive moisture intrusion.
When looking for new siding material, fiber cement, when installed by a certified contractor, offers a better solution for Kansas City area homes. Since it is exposed to the elements 24/7, it needs to be manufactured to stand up to high winds, rain, snow, ice, and more. 
Cement, sand, and cellulose are blended to make fiber cement. This durable combination safeguards your home from extreme weather for decades. Fiber cement lasts up to 50 years and delivers low maintenance due to its strong makeup. 
What Causes Stucco Siding to Fail
While stucco siding looks fabulous initially, there are several disadvantages to it.
Cracks 
Stucco is so prone to developing cracks that no manufacturer will warranty the product. People actually expect stucco to shrink and crack, so there's no big surprise when it does.
Installation problems
Stucco needs to dry and cure between coats. The problem is that bad weather can keep this from happening properly. When temperatures increase suddenly or high winds occur during stucco installation, it can wreck the integrity of your home exterior during the curing process, leaving it faulty from day one!
Limited design
There are a finite number of ways stucco can be varied in both its texture and color. When it comes to color selection, you're basically limited to earth tones by choosing stucco, leaving all bold colors out of the question.
Water intrusion
Moisture penetration causes white, powdery blotches to appear on your home exterior and ruin its look. Unhealthy mold and mildew can follow due to moisture intrusion.
Unevenness
If you're looking for a sleek, contemporary upgrade for your home exterior, stucco isn't the best choice. It's far from even, and presents grooves and irregular waves throughout. It is hand applied, so it's not precise, and can tend to be thinner over studs and thicker across stud bays.
Advantages of Fiber Cement Siding
Stylish
Unlike stucco, fiber cement comes in a wide variety of looks. Get sleek, clean contemporary appeal with vertical panels. Enjoy the timeless look of horizontal lap siding, or achieve the genuine beauty of cedar shingles with the low maintenance of fiber cement.
Water resistant
While stucco tends to stay damp due to water intrusion, fiber cement gives you consistent protection from moisture. Avoid the hassles of wood rot and mold, and skip the costly repairs moisture intrusion causes by choosing fiber cement. 
Sustainable 
The long lifespan of fiber cement siding (up to 50 years) makes it a fabulous choice if you're looking for a greener option for your siding replacement.
Warrantied
While stucco siding doesn't come with a warranty, fiber cement is made so durably, it comes with a lengthy warranty, giving you peace of mind in your investment.
Gorgeous
If you're set on the look of stucco but you don't want its high maintenance and repair requirements, find a fiber cement manufacturer who makes a siding product that mimics the look of stucco. James Hardie offers a durable option that gives you stucco style with outstanding fiber cement durability.
Looking for visual appeal on your home exterior? Consider the luxurious Artisan Collection by James Hardie. Get deep shadow lines and extra thick siding boards that set your home apart. 
Pest resistant
Fiber cement offers nothing termites, carpenter ants, and other pests desire. It resists woodpeckers as well, so you'll avoid the hassle of costly repairs.
Weather resistant
Avoid the problems other siding materials experience by choosing fiber cement which stands up to weather elements including rain, hail, snow, ice, and high winds that the Kansas area can experience.
Low maintenance
Enjoy spending time doing what you love most with fiber cement siding's extremely low need for maintenance. Simply clean it each fall and spring with a garden hose and medium bristle nylon brush to remove any dirt, and it will continue looking beautiful for years to come. Keep an eye on its seams around your windows, doors, and between siding panels, and if caulking deteriorates over time, simply replace it.
Exceptional installation
Fiber cement requires a team of experts to install it properly. It's thicker and heavier than other siding materials and takes experienced, well trained professionals to fit it properly.
The James Hardie company trains contractors to install their siding according to their strict standards. This ensures your siding will be placed on your home exterior properly the first time and perform as it was designed to for years to come. It also ensures your 30-year transferable, non-prorated warranty will be honored.
Check out this blog for additional reasons why homeowners love Hardie siding over stucco.
Expert Siding Installation
To get the highest enduring performance from your siding, you need two major ingredients: exceptional siding material, and detailed installation from a trusted contractor.
Choosing fiber cement siding gives you the perfect start in the long-term satisfaction of your home exterior. Selecting a James Hardie Preferred contractor like Stateline Exteriors to install your new fiber cement siding ensures it will perform as it should for as long as it was designed to: up to 50 years!
Stateline Exteriors—a 2021 Guildmaster Award Winning Contractor
Based on both customer recommendation rates and survey response rates, and using customer feedback from an entire calendar year, Stateline Exteriors received the Guildmaster Award that sets us apart from other contractors.
Learn more about fiber cement siding, and bring out the best in your home exterior.