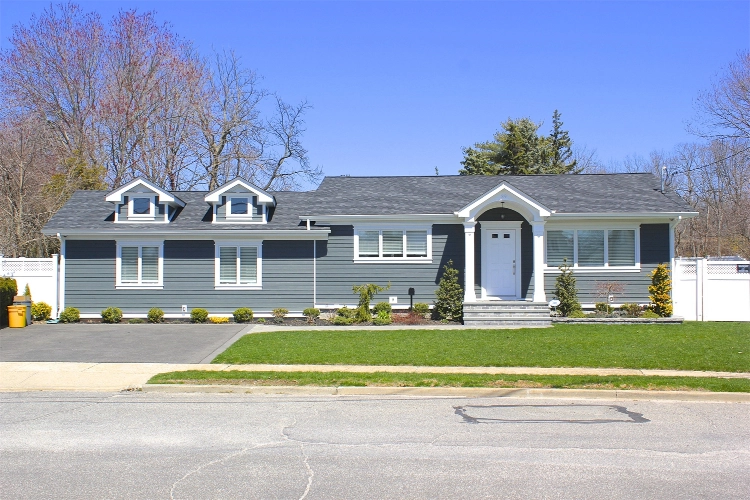 Old siding can make your home look drab, and open it up to possible moisture damage and the hassles of home repair. Hardie board siding offers you durable, attractive protection for your home for decades. Its warranty is unmatched in the siding industry. James Hardie fiber cement siding is the top fiber cement siding brand, and America's favorite siding material.
You should come home to an inviting house. At StateLine Exteriors, we understand how overwhelming it can feel to need new siding and not know the pros and cons of different options. That's why we've worked with thousands of homeowners, educated them on their options, and helped them create a home they can be proud of again.
What Is Hardie Board Siding?
Hardie Board siding is a super durable siding product from the James Hardie company that looks amazing, is long-lasting, and comes with a fabulous warranty. It's made of cement, sand, and cellulose fibers which combine to create an outstanding material to both protect and beautify homes.
What Are the Pros and Cons of Hardie Board Siding?
Every siding product has pros and cons, but James Hardie siding clearly has many more pros than it does cons. You're sure to love this outstanding siding with a track record like no other siding product.
Pros of Hardie Board Siding
Outstanding durability
Hardie Board siding withstands the elements with ease. It keeps looking amazing and performing its job of protecting your home in spite of its direct contact with the elements 24/7. It withstands rain, hail, high winds, storms, snow, ice, harsh humidity, and temperature changes. It resists moisture penetration, saving homeowners the hassles involved in repairs due to rotting, swelling, or warping.
Eye-catching curb appeal
Hardie Board siding is beautiful and gives your home pleasing aesthetics with its variety of styles and colors. It makes your home stand out and can even look like wood siding, but it's not, so you don't have to be burdened with the high maintenance wood requires.
Resists pests
Hardie Board siding resists pests including termites and carpenter ants. It's also woodpecker resistant, so you don't have to worry about the hassles of repairing termite or woodpecker damage.
Unmatched warranty
James Hardie fiber cement siding gives homeowners a 30-year non-prorated warranty that is transferable. Other siding companies may decrease their warranty coverage on their siding products as the years after installation increase, but not the James Hardie company. And that's a significant perk for homeowners. Additionally, James Hardie's ColorPlus Technology is warrantied against peeling, chipping, and cracking for 15 years—including labor and materials.
Highly customizable
The multiple styles of Hardie Board siding give you plenty of options from which to choose. Match your home's architectural style and your personal preferences with your choice of Hardie Board siding styles. Create the look you love with the perfect color selection of James Hardie siding.
Fire resistant
Fiber cement siding won't contribute to a fire because it isn't combustible. Other siding products like wood will actually fuel a fire. But Hardie Board siding gives you and your family the added protection to give you peace of mind about your safety in case of a fire.
Expert installation
The James Hardie Company takes the guesswork out of installation by training their installation professionals, certifying only the best as James Hardie Preferred Contractors. This helps homeowners have confidence in their siding contractor, and assures optimal installation results. Their rigorous standards for their approved contractors ensure homeowners get all the advantages of the outstanding James Hardie warranty.
Environmentally friendly
James Hardie siding is the greenest siding brand in the industry because of it's makeup and the James Hardie Company's sustainable practices.
Low maintenance
Hardie Board siding requires almost no maintenance year-round. Simply take your garden hose and a medium bristle nylon brush to clean it twice a year.
Cons of Hardie Board siding
Initial investment
There are so many pros, it offsets the con for this siding material: the initial cost. Hardie Board siding is a greater financial investment than vinyl siding, but it lasts longer too. So as you consider this aspect of your decision, realize you will enjoy this outstanding siding for up to 50 years. This investment also boosts your resale value and gives you one of the highest returns on investment (ROI) in the remodeling industry.
Longer installation process
The heavy weight of Hardie Board siding makes it more challenging to handle than other siding materials, so it is more difficult to install. Installation should only be done by James Hardie trained professionals to ensure the warranty stays intact.
Possible repainting after 15 years
There is some maintenance needed on Hardie Board siding after approximately 15 years. The ColorPlus Technology warranty covers your siding's color for 15 years, and then you may need to repaint it.
Transform Your Home with Gorgeous Hardie Board Siding
Enjoy a beautiful home exterior with low maintenance, long-lasting Hardie Board siding.
StateLine Exteriors, a trusted James Hardie contractor, installs the top fiber cement siding in the industry: James Hardie siding. Why James Hardie? Their unmatched fiber cement product coupled with their outstanding warranty and expert installation makes them the top siding product in America. Engineered for climate, James Hardie developed the perfect siding for your Kansas City area home.
Get the home you've dreamed of. Begin by contacting StateLine Exteriors to schedule a consultation.