[vc_row][vc_column][vc_column_text]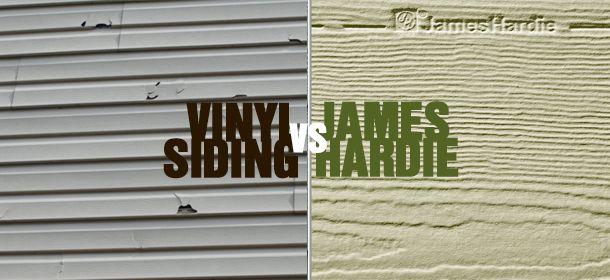 Replacement siding boosts your home's curb appeal, helps protect and safeguard it from the elements, minimizes street noise, resists unwanted pests, and provides a layer of security for your home. There's no better way to protect your home exterior than a fresh siding replacement. When your home's outdoor beauty and indoor comfort increase with new siding, your overall home value increases, making new siding a worthwhile and rewarding investment.
How to choose the best siding option for your home exterior
The pros of James Hardie Fiber Cement Siding
Hardie board comes in a variety of styles and color options. Its resilience and lengthy warranty make it the most popular choice in the siding industry. Hardie Board, or fiber cement siding, has been refined for years, providing a long-lasting, beautiful looking siding homeowner's love. Hardie board is made of cement, natural cellulose, and sand, which makes it environmentally friendly.
Kansas City homeowners appreciate the strength and durability of James Hardie siding, particularly since the weather can produce some exceptionally high, potentially damaging winds. James Hardie siding is found in over 8 million homes in America. Here are some reasons homeowners appreciate this amazing siding:
1. Boost Your Home's Curb Appeal
Hardie board siding creates eye-catching curb appeal and increases the resale value of your home. It's so thick, it easily imitates the authentic look of wood, yet it is more long-lasting than wood siding (and doesn't hold moisture like wood siding does).
2. Express Your Unique Style
Hardie board is available in multiple styles and options, giving homeowners customizable design elements to match their unique style and complement their home's architectural elements. Hardie board comes in one of two ways: in pre-painted, baked-on color options for long-lasting non-fading color, or primed and ready to paint after installation for additional paint color options. Homeowners personalize their dwellings by choosing from Hardie board siding options such as:
HardiePlank Lap Siding – Homeowners appreciate the timeless look, color, texture, durability, and beauty of this best-selling siding product.
HardiePanel Vertical Siding – Crisp, clean lines mark the modern look of vertical siding. The distinct visual design features of vertical siding work perfectly for farmhouse style or contemporary home exteriors.
HardieShingle Siding – Homeowners enjoy the authentic look of cedar shingles with the strength of James Hardie. HardieShingle siding resists rotting, curling, warping and splitting—and it's perfect for Cape Cod or cottage style homes.
3. Enjoy Easy Maintenance
Hardie board siding resists fading, so it doesn't need to be repainted unless you choose a color change after a decade or so. It's also easy to clean by simply rinsing it with a garden hose twice a year. A non-abrasive brush can help get any pesky dirt off your beautiful siding. Remember to resist the urge to power wash your siding, as that could damage it.
4. Experience Unmatched Strength and Durability
Hardie board's long-lasting, durable makeup keeps homeowners happy for years to come. Its beauty is maintained regardless of the rain, wind, or other extreme weather elements that occur. While wood siding can rot from moisture damage, or be a doorway to insects entering the home, Hardie board siding resists moisture damage and insect infestation.
Vinyl siding's appearance can be compromised due to denting from a lawnmower throwing unexpected rocks or debris. In contrast, Hardie board siding maintains its attractiveness while resisting damage from weather, insects, moisture, hail, extreme heat, and fire.[/vc_column_text][vc_message message_box_color="grey"]
Want to know more about the benefits Hardie board siding?
Our "Ultimate Hardie Board and Fiber Cement Siding Guide" can help.[/vc_message][vc_column_text]
Fiber Cement Siding – cons
Fiber cement siding is an investment, yet it pays off for years to come by retaining its beauty and durability. Its hefty warranty speaks volumes for its dependability. So, although the initial investment is significant, in the long run, it pays to install fiber cement siding.
Vinyl Siding – pros
1. Appreciate the Price Point
Vinyl siding's budget-friendly price point attracts homeowners and rental property owners. The attractive price makes re-siding more feasible for many.
2. Enjoy Low Maintenance
When it comes to painting your siding, as many say, "If it's vinyl, it's final." Vinyl siding doesn't need to be repainted, giving you long-lasting color to enjoy. It is more durable than wood siding, which needs to be repainted regularly. And it's easier to care for than cedar shake siding, which needs to be treated regularly.
3. Appreciate Its Strength
With proper care, vinyl siding can last 20-40 years. It doesn't attract insects, pests or susceptible to moisture damage like wood siding is.
4. Express Your Style
Vinyl siding comes in a variety of colors from which to choose. Homeowners select from either horizontal or vertical panels to customize their home's look.
Vinyl Siding – cons
Cold temperatures can sometimes cause vinyl siding to crack.
It can be dented with the flick of an unwanted rock from the lawnmower.
It is treated with fire retardant, but that only slows the spread of fire.
What are your top priorities for your new siding?
The best overall choice can be made once you are familiar with the pros and cons of each siding type, and decide your priorities for replacement.
Energy efficiency—Vinyl siding can be installed with a layer of insulation to decrease overall energy usage.
Environmentally friendly—Hardie board is made from sustainable materials and doesn't require the use of fossil fuels like vinyl siding does.
Lower price point—Vinyl siding may have a lower price point than Hardie board, but it also needs to be replaced more frequently than James Hardie siding.
Fire resistance—Hardie board is so well respected for its fire resistance that insurance companies offer a discount on homeowners insurance if you have Hardie board siding. Vinyl siding can melt in fire or extreme heat.
An expert siding contractor for your Kansas City home
StateLine Exteriors offers custom siding replacement solutions for Kansas City and the surrounding areas. We install James Hardie siding—giving homeowners beautiful exterior home design with high performance and durability. Schedule a free estimate.[/vc_column_text][/vc_column][/vc_row]