Siding Replacement Contractor in Lenexa, KS
At Stateline Exteriors, we use only high-quality siding products that are worth your investment. We install two types of siding for your Lenexa home: fiber cement siding and stone siding.
Each type of siding benefits homeowners by offering:
Better energy efficiency
Lower utility bills
Better air flow
A higher resale value for your home
A low-maintenance exterior
And more
With our customized siding plans, you'll make all the choices for what the exterior of your home will look like—something that other siding companies can't offer.
We make home updates simple:
Fill out our easy web form or call us to schedule a no-pressure conversation about your project.
We will guide you through the process and help you understand your options with a detailed quote.
Get back to enjoying a house that welcomes you home at the end of the day.
Why James Hardie Siding is a Top Choice
We're the type of siding company that's honest with our clients, and we believe James Hardie siding, also known as Hardie Board siding, will be your best choice for a lasting exterior.
Not only does this fiber cement siding outperform almost any other kind of siding (including vinyl), but it also has a slew of benefits that come with it including:
Stunning curb appeal
Fire resistance
High-level warranty
Environmentally friendly
And more
Although it may seem like James Hardie siding is a lot of money up front, it's the kind of investment that pays itself back over the years and showcases why it's worth the money.
Need Financing To Get Started?
Our financing options can help make your home exterior dreams a reality by expanding your purchasing power.
Now Offering Pre-Qualification Financing with NO Affects to Your Credit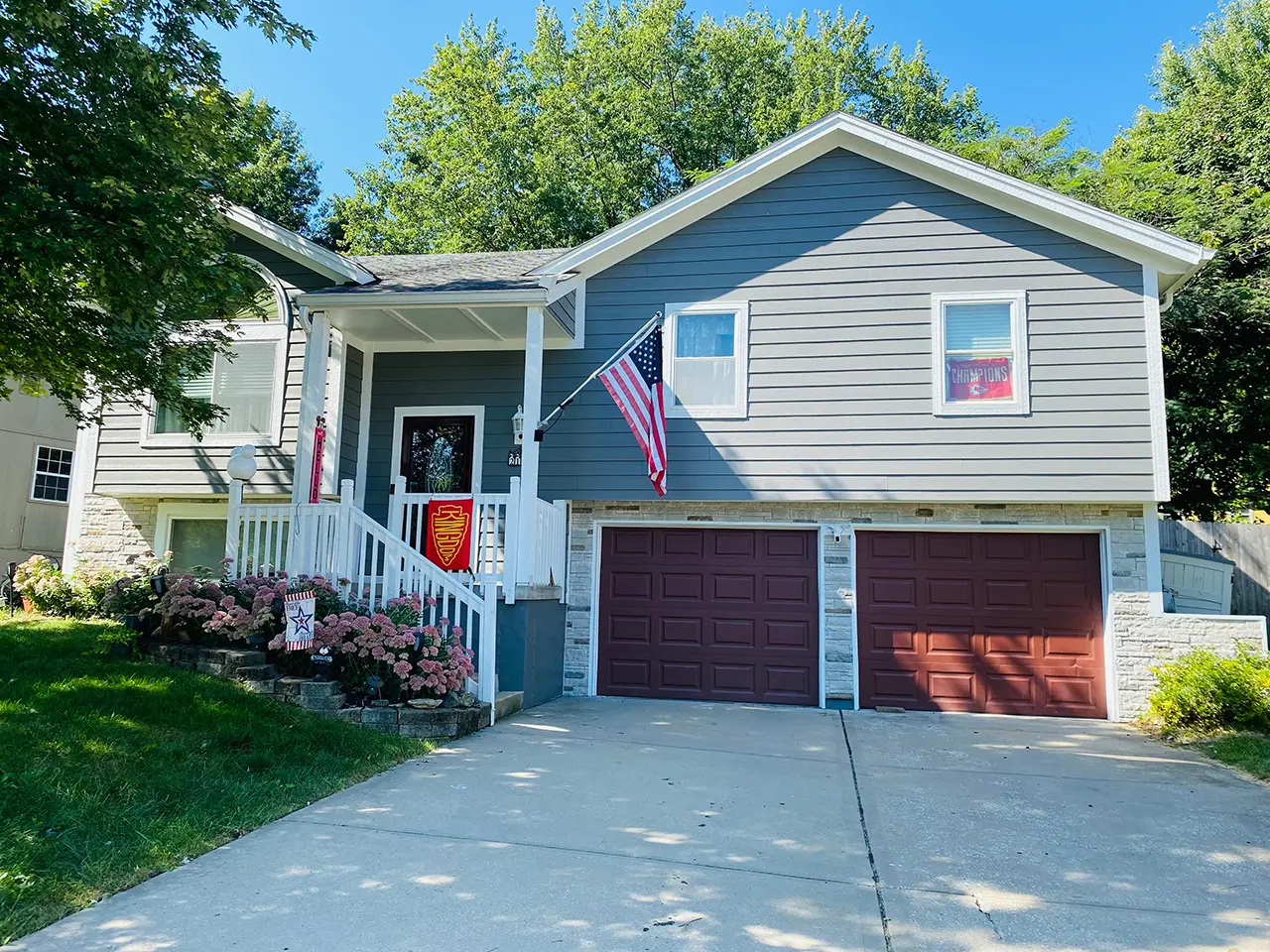 Projects In The Kansas City Area
Lenexa's Most Trustworthy Siding Company
We understand the feeling of knowing your home should look better. StateLine Exteriors invests in each customer to give a personalized experience and help them feel proud of their home again.
We can help you feel that way about your Lenexa home in Johnson County. Reach out to us today to start the first step in your siding installation process.
Our Professional Service Guarantee
Skilled Labor Isn't Cheap – Cheap Labor Isn't Skilled
You deserve a company that sticks by you and meets your expectations. That's why the StateLine Exteriors team makes relationships a priority. We make sure you understand the process before we begin and communicate clearly throughout your project. Our installers never cut corners and always go the extra mile.
What do customers say about our work?
This is the only company I refer for siding & windows. From start to finish they treat you like family. They truly know how to make you fall in love with your home again.
They did a great job installing the windows. Good prices, and knowledgeable service! Will use again!
We were extremely pleased with the StateLine Exteriors team's work on the exterior doors we had replaced. They made a huge impact on our feelings of safety and also getting us more natural light. The estimate process was very smooth and my husband can't wait to get all our other doors replaced now!
Jennifer L., Overland Park KS
The StateLine crew just finished installing all new Hardie Board siding. It all looks absolutely beautiful. The Hardie siding is amazing, and it won't need to be painted, so I love that it is no maintenance! I can't say enough good things about their on-site crew and the whole team at Stateline!!
We had a great experience with the StateLine crew on our James Hardie siding installation. They were always available to answer any questions we might have. We will definitely use them again on upcoming housing projects.
Kristin T., Kansas City KS